Guiding Young Students As They Begin Their Educational Journeys
Providing a loving Christian environment where children feel supported as they take their first steps in education
Christian-centered, pre-kindergarten program
The K4, kindergarten program for children aged 4 is designed to meet the needs of students academically, socially, and spiritually as they begin their journey in education.
Experienced Educators Dedicated to God
Christian-Centered Abeka Curriculum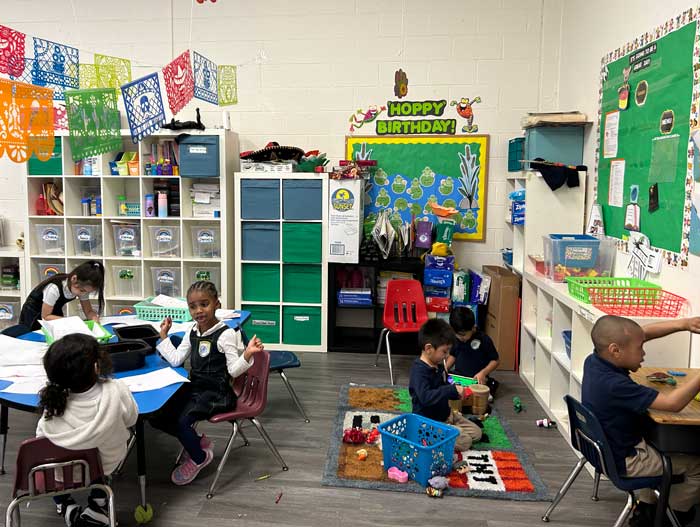 Building strong phonetic foundations
Following the Chrisitan-focused Abeka curriculum, the K4 program helps students build a solid phonetic foundation with letter-sound relationships, blends, and sight word recognition.
The K4 program also incorporates mathematics, music, Bible, science, social studies, and art for a comprehensive introduction to learning. In addition to academics, K4 students will master practical and social skills, along with self-reliance and gross motor skills.
Biblical principles are incorporated into all aspects of the K4 program, with each subject being approached from a Christian perspective. With experienced educators and small class sizes, you can rest assured that your child is receiving the love, support, and attention they need to have a solid beginning to their educational journey.
See What Past Parents and Students Have to Say
Kyle & Lisa
We love Cornerstone Christian Academy. Our son has developed so much this past year in pre-k (Mrs. Nona) we know he will excel in kindergarten. The staff is very friendly and very accommodating. Our son loves the summer camp program as well and can't wait for it to start.
-Kyle & Lisa
Katarina
We love Cornerstone. We have Ms. Fitzgerald who is very involved teacher who pushes the student to be active and think on their own. Our daughter attended Cornerstone since kindergarten so we have great experience with all teachers.
-Katarina
Dresden
This school is ALL Academics. Children sit classroom style and they learn their letters, blends of words, writing, languages, etc. My son started their 4k program at 4 years old and after a few short weeks, he can fully write his name on his own and knows the sounds of letter and vowel blends.
-Dresden
Does the K4 program sound right for your child? Then please get in touch.