Striving For Excellence In Christian Education
Helping students reach their full potential with a professional, spiritually-focused education
Educating Students Through the Biblically-Focused Abeka Curriculum
At Cornerstone Christian Academy, we're proud to offer educational programs serving Kindergarten through sixth grade. Each program we offer follows the biblically-based Abeka curriculum, which has led the way in Christian Education since 1972.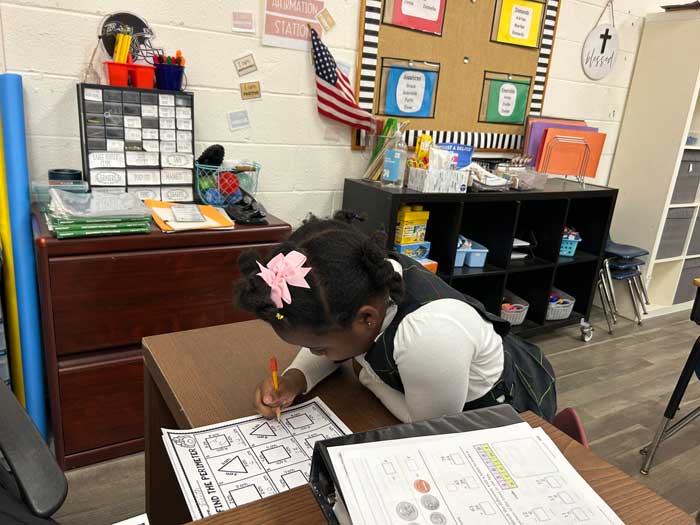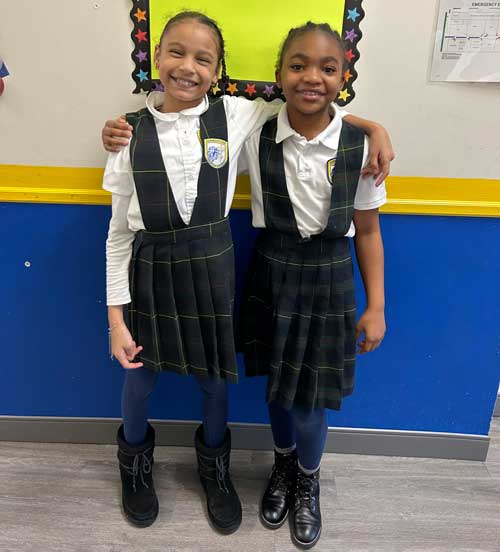 Helping Children Grow Spiritually, Socially, and Academically
The programs offered at Cornerstone Christian Academy seek to shape students into intelligent, social, and well-rounded individuals who prioritize Christian traits such as patience, kindness, and goodness.
Our certified educators achieve this by offering pupils a curriculum that incorporates subjects ranging from math, science, and social studies to languages, PE, and music. In addition, we help students master essential life skills and guide them in strengthening their relationship with God, their peers, and their community.
K4
We're proud to offer the trusted Abeka curriculum for our K4 program. The Christian-focused curriculum introduces students to important academics, including letters, numbers, Bible study, and art. In addition to academics, as part of the K4 program, students will master self-reliance, spiritual growth, gross motor skills, positive work habits, listening, speaking, and many more essential life skills.
K5
Give your child the kindergarten experience they deserve at Cornerstone Christian Academy. Based on the Abeka curriculum, your child will learn phonics, math, Bible, art, science, and social studies as part of their kindergarten education. Kindergarteners will also have a daily, structured PE class and other weekly electives such as foreign language, music, and computer skills.
Elementary 1st - 6th Grade
As your child makes the leap into first grade at Cornerstone Christian Academy, they'll build on the foundations they learned in Kindergarten through the Abeka curriculum. On their journey through elementary school, your child will focus on developing their reading skills, mathematical capabilities, Christian values, scientific knowledge, language skills, and much more.
Before & After School Programs
We offer all of our students, from Kindergarten to 6th grade, access to our Before & After School Programs. These programs offer busy parents a safe space to have their children spend time before and after the school day. Each program offers fun and productive student activities, including art, sports, science, worship, nature, and many more.
Winter, Spring & Summer Camp
Cornerstone Christian Academy is delighted to offer students three different camp experiences in Winter, Spring, and Summer.
These camps seek to continue building your child's values, beliefs, and faith while allowing them to develop social skills and interact with peers. Popular past themes from Cornerstone's fun and educational camps have included: Oceans Down Under, Fear Factor, Mission Impossible, Surf Safari, and Superheroes.
What is Abeka?
Abeka is a popular educational curriculum built on Christian values, founded by Dr. Arlin Horton and his wife, Beka, in 1972.
What subjects are included in the Abeka curriculum?
The Abeka curriculum offers students a comprehensive academic experience. It's comprised of the following subjects:
Language Arts
Mathematics
History & Geography
Phonics & Reading
Spelling, Vocabulary & Poetry
Science & Health
Bible
Penmanship & Grammar
Foreign languages
Art
Cursive writing
How do I apply to send my child to Cornerstone's winter, spring, or summer Camp program?
To secure your child a spot at camp, fill out the relevant application form posted on our website and mail it directly to Cornerstone Christian Academy, 12368 Dillingham Square, Woodbridge, VA, 22192.
You are also welcome to fax your application to 571-295-4823 or scan and email it to registrarcca@gmail.com.
Does Cornerstone have the program that's right for your child? Then we'd love to hear from you!